Air conditioner at our homes is a seasonal necessity and buying an ideal AC can be a tough task especially when you are promised the best product from all the retail outlets. Although autumn is right at the door and this might not be the best time to buy an AC, if you live in North India, we can help you list down some of the best options you can consider in the budget category.  As always, the list is no order of preference and we have gone in for split ACs instead of Window ACs due to a couple of reasons i.e. better service and availability, better energy savings.
Micromax 1.5 Ton Split AC – Rs 21,499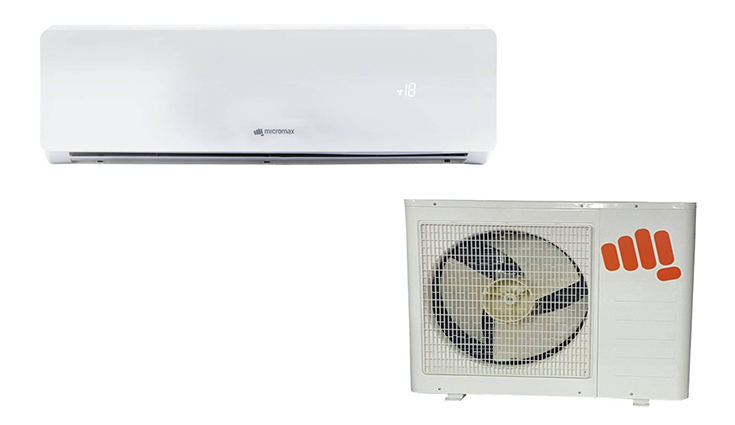 The cheapest option in today's list comes from Micromax, which is a fairly new entrant in the industry if we consider other brands like Voltas, Haier etc. Micromax ACS18ED5AS02WHI, which is available for a price of Rs 21,499 on Flipkart offers the best bang for the buck concentrating purely on the features. To start with, this 1.5 tonne AC comes with a 5-star energy rating which comes in really handy if the electricity bills in your city are known to sky rocket in summers. This AC comes with a 4-way swing feature which ensures the effective cooling to reach all parts of the room. There is a hidden display on the main dashboard which shows up the temperature and other information. Further, the remote control which ships with this model as it comes with luminous buttons for better clarity in the night time.
For you health freaks, this AC comes with three filters – an Anti-VOC filter, a Vitamin C filter and a Catechin filter to prevent you from bacteria and provide more Vitamin C to breathe inside the room. Also, the dehumidifier makes sure you are fresh and up even in the rainy season. Being a split AC, the inner component measures 90 cm x 29.2 cm x 21.5 cm and weighs 13 Kg while the outdoor component i.e. the compressor measures 84 cm x 54 cm x 30 cm and weighs 35 Kg. Besides, you get 1-year manufacturer warranty for the main component and 5-year protection for the compressor.
Haier 1.5 Ton Split AC – Rs 24,999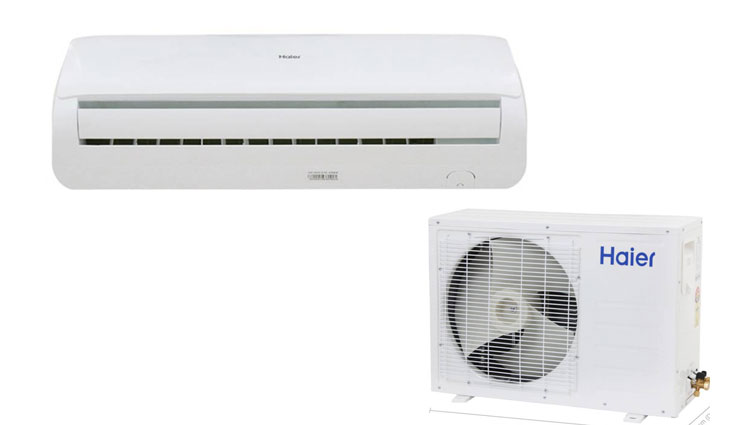 Adding up a little more money will get you Haier's HSU-19TFW5P which is currently priced at about Rs 24,999. While most of the features here will resemble the one present in the previous option, you get Haier's brand value along with the after sale support. Being a 5-star AC, this model will be easy on your electricity meter as well. Similar to the Micromax counterpart, we get the Anti-bacteria and Dust Filter to make sure you are breathing in the right air inside the room.
Other features such as auto-restart and sleep mode help you get a sound sleep after a tiring day at the office while the Fast Cooling feature will make sure that you don't have to wait too long to get the AC up and running after bearing the scorching heat outside. The indoor component measures 99.5 cm x 31.5 cm x 23.5 cm and weighs 13.1 Kgs while the compressor measures 84 cm x 54 cm x 30 cm and weighs 34 Kgs. Lastly, 1-year warranty on the main component and 4 years of warranty on the compressor is what you get with this one.
Voltas 1.2 Ton Split AC – Rs 24,999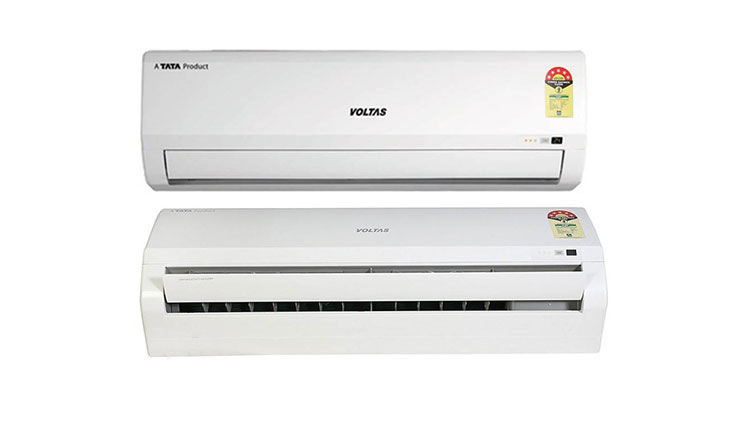 After a successful marketing campaign for its air conditioners Mrs, Voltas has been pretty constant in terms of its air conditioner portfolio. Unlike others, Voltas 155CY split AC is a 1.2 Ton AC and is currently available at Rs 24,999 on Flipkart. If we talk about features, this AC is also a 5-star on energy rating along with an aluminium condenser to save up on costs. The auto restart feature will further save  Further, Voltas claims that this is a perfect AC for you to have a sound sleep, Thanks to the Sleep Mode which automatically adjusts the fan speed after analysing the room temperature.
Besides, there is also a dust and anti-bacteria filter which will keep dust, pollen, bacteria and other small irritant particles away from the air. There is also a dehumidifier which soaks up extra moisture in the monsoon season. The main compartment also boasts a dual temperature display, an automatic lock and an LCD remote to give you all the control at the tip of your fingers. The buttons on the remote glow in light so you don't need a torch or switch on the light to access it in the middle of the night. For space it will take up at your home, the main compartment measures 94.4 cm x 21.3 cm x 30 cm and weighs 12.3 Kg while the compressor measures 84 cm x 54 cm x 30 cm and weighs 32 Kg. In terms of protection, Voltas is providing 1-year warranty for the main compartment and 5 years for the compressor.